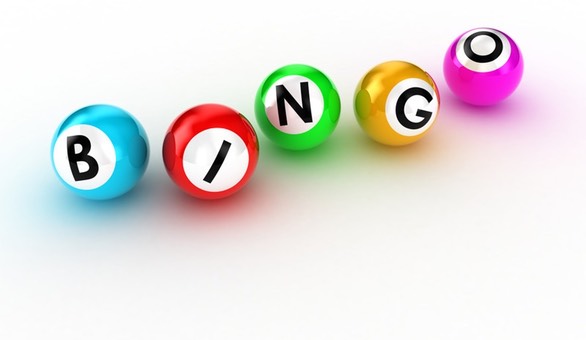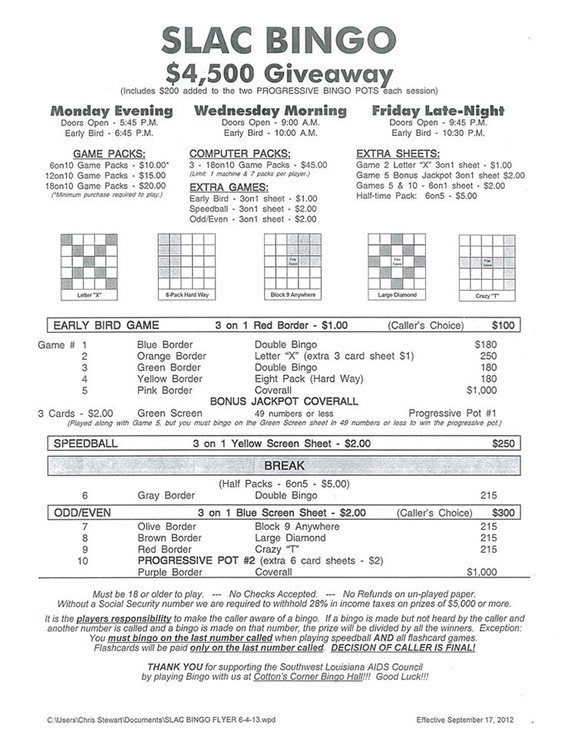 Schedule
Monday Evenings:
Doors Open - 5:45 pm
Early Bird -  6:45 pm
Wednesday Mornings:
Doors Open - 9:00 am 
Early Bird - 10:00 am
Friday Late Night:
Doors Open - 9:45 pm
Early Bird - 10:30 pm
Facility Amenities
• We offer a smoking and fully-enclosed non-smoking section for your comfort.
• We also have a full-service kitchen with beverages and snacks.
• Fully handicap accessible.
Email Christina with any questions!
Proceeds raised go towards SLAC unrestricted funds.  
Thank you for your support!

                          click poster to enlarge
Come join us for any of our fun SLAC Bingo games!  Mondays, Wednesdays, and Fridays.
Located at Cotton's Corner Bingo in Vinton, Louisiana. 
Interstate 10, exit 4
2360 Highway 109 S.  
337.589.3002
           • Watch the Cotton's Corner Bingo commercial.
Highlights:
• Machines
• Pull Tabs
• Flash Cards


Upcoming SLAC SUPER BINGO
        $20,000 GIVEAWAYS   -   MAY 1, 2017.
                       click poster to enlarge